Hometown: Fort Worth, Texas
Founded: 2012
Genres: Folk, World, Celtic, Americana
From Texas, the World! Based in Fort Worth, our passion is bringing music from all over the world to life. We play traditional tunes and original compositions in a variety of genres from across Europe, around the Mediterranean, and the Americas. From traditional Irish and Scottish music, waltzes and ballads from Northern Spain and Appalachia, polkas, tangos and rhumbas, toe-tappers from the Balkans, Greece, Turkey, and Transylvania, and a few unique concoctions of our own, we bring you the world in music.
Since our debut performance at Fort Worth's Rose Marine Theater in 2012, we've released two full-length CDs ("No Passport Required" & "Curiosities") and one EP ("From Ballydesmond to Inisheer") and made frequent appearances at local house concerts, bars, restaurants, and music festivals including Ron's Corner Tavern in Bedford, Reveler's Hall in Dallas, Legacy Hall in Plano, the North Texas Irish Festival, Fort Worth Arts Goggle, and the Lone Star State Dulcimer Festival in Glen Rose.
A sampling of our current repertoire includes:
The Lark (Ciocârlia) - the Romanian answer to the Orange Blossom Special. A romping-stomping fiddle tune by Anghelus Dinicu.
Farewell to Ireland - a traditional Irish Reel, also known as Farewell to Eirinn and Slan Le HEirinn.
The Ballydesmond Polka - an Irish polka, it can be heard in the movie "Titanic". We pair it with Denis Murphy's and John Ryan's polkas
Female Saylor - a traditional English country dance tune. We do it as a reel, and pair it with Nine Points of Roguery
Bir Demet Yasemen - A Turkish ballad, this is a belly dance standard.
Cau'l Chouzanu - a lovely waltz from Asturias, one of the Celtic regions of Northern Spain. By the late Fernando Largo
Migration of Birds a majestic tune by Ferenc Sebo, Hungarian Folklorist and musician, best known as the leader of the Sebo ensemble. Recorded with his kind permission.
Tico-Tico no Fubá - a famous Brazilian choro song written by Zequinha de Abreu in 1917
Jerusalem's Ridge - Bluegrass fiddle tune by Bill Monroe (1911-1966)
Lulu Swing - Gypsy Jazz tune by Lulu Reinhardt (1951-2014)
Valse Egyptienne - written in the 1920s by Alexandar Maloof (1884-1956), a Syrian immigrant and one of the most prolific musicians, composers, and bandleaders in the first half of the 20th century in New York. We learned it from a 78 RPM record. Among other things, Maloof wrote a song that was a candidate for the US National Anthem (this wasn't it).
Vittorio Monti's Csardas - adapted from Hungarian Folk Music in 1904. Sometimes we pair the opening section with other tunes, other times we do the full Monti
Anvil of the Sun - written by our own Steve Mixon, it is inspired by "The Sun's Anvil" from Lawrence of Arabia, as well as growing up in Texas
Bundy's Manouche - our own Gypsy Jazz arrangement of a cimbalom csardas from a record by Bundy Varga. Bundy was a Hungarian immigrant to the US in the 1950s, settling initially in Ohio and eventually making his way to Fort Worth, where he opened The Golden Earring on the Benbrook traffic circle in the 1970s.
Säkkijärven Pollka - Finnish Polka famous for helping defeat the Soviet's during the invasion of 1941.
Resources:
The band:

Kristine Fisher - violin, viola. Kristine is passionate about taking others on musical journeys through performance and teaching. She graduated from the University of Texas in Arlington with a Bachelors's in Music Education where she studied with Dr. Timothy Angel. Kristine also holds an Associate's Degree in Music from Tarrant County College where she studied under Becky Rathbun. When not teaching, she plays violin for church services, weddings, funerals, and other events. She is also part of the Seasonal Strings quartet.

Amber Gutermuth - violin, viola, fiddle. A Music Education graduate of UTA, Amber has been playing the violin since kindergarten, where she started in the Suzuki Strings program in HEB ISD. Encouragement from her grandfather led her to dive headfirst into the world of fiddle music, going on to study with fiddle instructor Dale Morris Senior. On the classical side, Amber has played in several local orchestras, eventually serving as concert master of the L.D. Bell High School Symphony, and leading the school's top quartet. Amber teaches private violin lessons, and aspires to teach the Suzuki Strings method. In her free time, Amber takes guitar lessons from Howie Baldwin and is teaching herself to play the mandolin. Amber also runs, composes, plays DND, and enjoys reading and writing.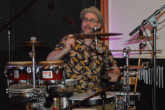 Garry Brunson - percussion. With an amazing collection of percussion instruments from all corners of the globe, Garry always has exactly the right instrument for whatever crazy thing we try next. He is a past member of Izibongo and the David Gallegos band, among others in the area. While his kit for Sombati varies, it usually includes cajon, doumbeks, bongos, bodhran, frame drums, cymbals, wood blocks, foot tambourine and bells, and truly countless shakers, beads, rattles, and assorted whatnots. Garry is also the inventor of the Brunson burner, the lesser known cousin of the Bunsen burner. We're told it has something to do with matches....
Steve Mixon - mandolin, octave mandolin, mandocello, guitar, banjo, & accordion. A native of Houston, Steve is a veteran of the Santa Cruz California klezmer and belly dance scenes. He and his wife Leslie are the founders of the Keller Folk Music Society, a local music meet-up group of acoustic musicians. Steve is a killer instrumentalist, and has an astounding knowledge of eastern European and middle eastern music, Celtic music, and traditional western folk and bluegrass music. Steve also once played an impromtu command performance of gypsy tunes for none other than the late, great, Dave Brubeck.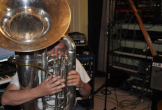 Eric Covington - bass, guitars, tuba, accordion. A Fort Worth native, Eric grew up in a house full of music including 60's folk revival, traditional European folk, belly dance, and classical. Along with the music were instruments including banjos, mandolin, guitar, tin whistles, piano, pump organ, cimbalom, and an unfortunate autoharp, disassembled when Eric was around the age five. Eric studied the tuba and euphonium through his later public school years, and learned to play the upright bass from Bundy Varga. Along the way Eric developed an interest in rock music which led him to the electric bass, and an interest in songwriting which led to the guitar, synthesizers, and recording gear. In addition to performing with Sombati, Eric is a member of the electronic music collective known as Sooterkin.